Away from the hustle and
bustle of the city. A relaxing space
surrounded by nature.
- / -
LOCATION Quiet location.
Overlooking Mt. Yufu
About an hour's drive from Oita Airport
or Oita City. A peaceful and healing place
located at the foot of Mt. Yufu.

A variety of excellent dishes created
using fresh seasonal ingredients.
Enjoy a quiet and relaxing time that can only
be experienced at Tosyoan while gazing at
the quietly changing scenery of Yufu.
CONCEPT A healing inn where silence flows
Tosyoan is located in an area rich in nature.
All rooms are equipped with natural hot spring.
The magnificent view of Mt.Yufu
spreads beyond the window.
CUISINE Colorful and flavorful
The cuisine uses the freshest seasonal catch locally
from the nature of Oita. The savoury menu
is the finest selections by our executive chef.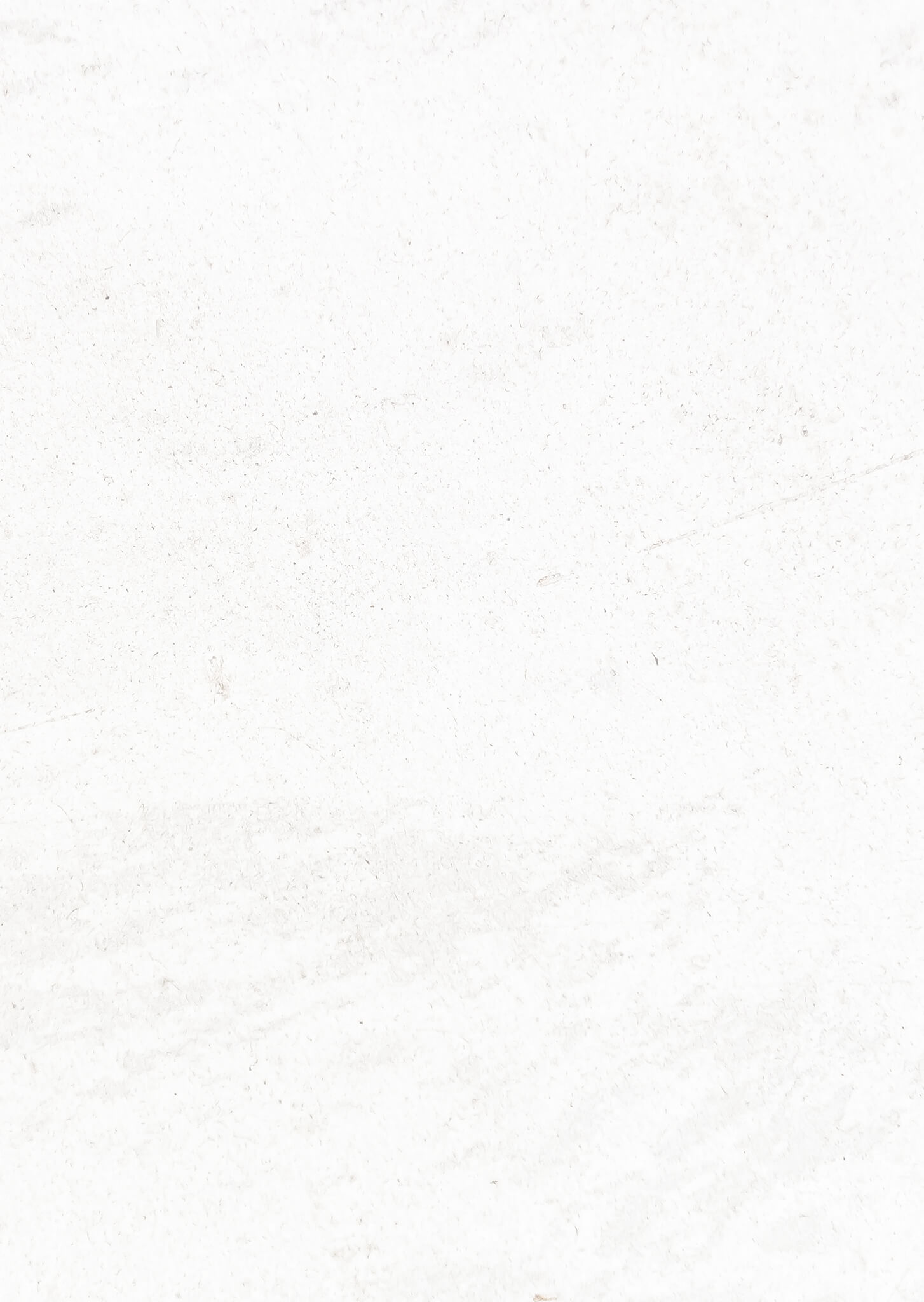 GUEST ROOMS A total of 8 rooms
with different theme
All 8 rooms are completely private spaces with own hot springs.
Enjoying the majestic Mt. Yufu and the superb
view of the countryside from the window of the room
Royal Suite
Annex Special room
Annex Japanese-Western style rooms
Main Building. Room with a good view
SYAKUYAKU

The only special room at the pinnacle of luxury.
Spending a luxurious time where you can relax and enjoy the supreme
blessings of majestic Mt.Yufu, peaceful rural scenery and abundant hot springs.

BOTAN

You can enjoy a spectacular view of Mt. Yufu from the wood deck and
veranda connecting to a spacious Japanese-style room.
You will be able to forget the hustle and bustle of everyday life and spend a luxurious time in the bath.

TSUBAKI

A room with a sense of privacy that is unique to Hanare.
The view and the starry sky are exceptional in the newly renovated guest room.
The loft on the second floor offers a hideaway atmosphere.

KIKYO

Time seems to have stood still in the quiet atmosphere of "KIKYO".
Please enjoy an elegant and luxurious time spent in an adult's hideaway.

NANOHANA
COSMOS
RINDO
YUSUGE

NANOHANA

If you open the windows of the rock bath and the Japanese-style room,
you can see the contrast between the superb view of Mt. Yufu and the hot spring bath.
You will be able to enjoy the beautiful scenery like never before.

COSMOS

A room on the second floor with a great view.
The bath is made of earthenware which is gentle to the skin.
You can enjoy a sense of openness in the room.

RINDO

The view from the second-floor and the porcelain bath are exceptional.

YUSUGE

You can enjoy a panorama of Yufuin through the window.
ONSEN Yufuin Hot Spring
Silky Soft Hot Spring Water
The hot springs at our hotel are colorless and transparent which is know for its skin-beautifying effects. Each room is equipped with a private bath with an outstanding view.
You can see the magnificent Mt. Yufu from every room.
Guests Rooms Information
Guests Rooms Information
No.of Rooms
Main Building (4 Rooms),
Annex Japanese-Western style rooms (2 Rooms),
Annex Special room (1 Room),
Royal Suite (1 Room)
Check in/ Check Out
15:00 / 11:00
Facilities
Indoor Bath,Washlet Toilet, Safety Box, Fridge, TV, Phone, Independent Air Conditioner, Green Tea, Kettle Pot, Hair Dryer,Humidifying Air Purifier
Amenities
Bathrobe (Royal Suite only), Bath Towel, Face Towel, Shampoo, Conditioner, Body Soap, Face Wash Soap, Toothbrush Kit,
Shower Cap, Razor, Monk's Working Clothes, Tabi Type Socks, Sandals, Tanzen ( thickly padded winter garment of japanese style)
FACILITIES Make colourful memories with Tosyoan.
In addition to the bar lounge with a panoramic view of Mt. Yufu, Tosyoan also has an irori hearth and terrace courtyard where you can feel the quiet peace of "Yufu" and "Wa".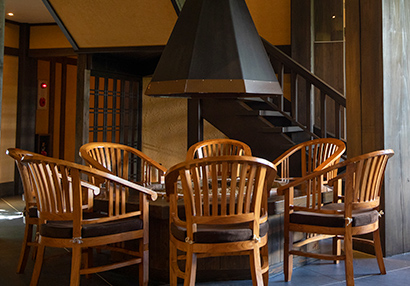 Hearth.
A hearth that you can feel the traditional Japanese atmosphere.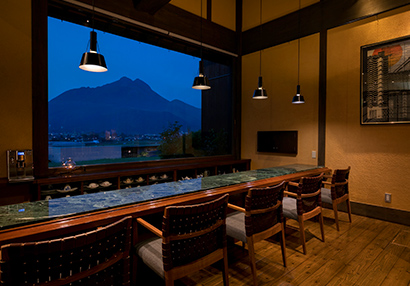 Bar lounge.
Enjoying the majestic scenery of Mt. Yufu and the scenery of the occasional train in a solemn atmosphere.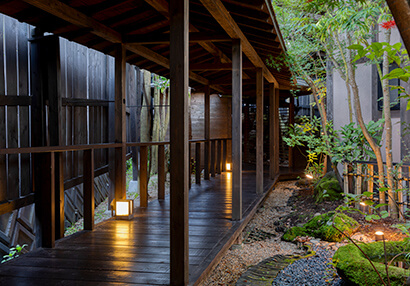 Corridor.
A corridor with a distinctive Japanese-style structure.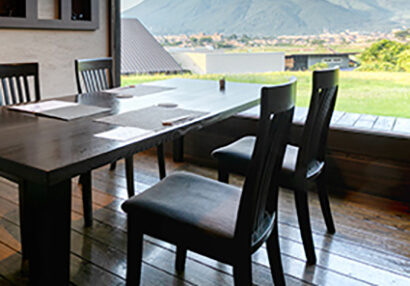 Restaurant Asagiri.
A relaxing restaurant with all private rooms.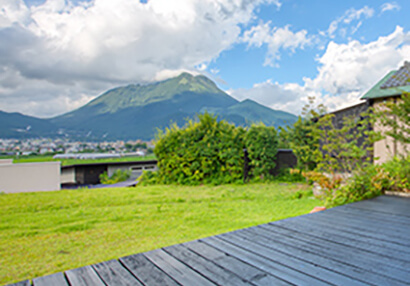 Terrace Courtyard.
A terrace courtyard with a sense of openness with fresh air.
Facilities Information
Details of facilities
No.of Rooms
Main Building (4 Rooms),
Annex Japanese-Western style rooms (2 Rooms),
Annex Special room (1 Room),
Royal Suite (1 Room)
Details of facilities
Bar lounge/Restaurant/Corridor/Terrace Courtyard/Hearth
Check in/ Check Out
15:00 / 11:00 ※Please contact us if you will be checking in after the scheduled time.
Credit Card
VISA、JCB、AmericanExpress、Diner'sClub、MasterCard
Others
・All rooms are non-smoking. ※Please use the terrace when smoking.
・Please refrain from bringing in food or drinks into our restaurant.
SIGHTSEEING Tourism
Yufuin is located almost in the center of Oita ( Japan's No. 1 hot spring prefecture). Watched over by the famous Mt. Yufu.
In addition to hot springs, there are many spots such as Yunotsubo Kaido and Yufuin Station Art Hall where you can enjoy yourself all day long.
Route Information
Coming By Car
Coming By Bus/Trains
Coming By Airplane
Coming By Car

Oita Airport.

Oita Airport Expressway
Approx 35 mins

Hayami Interchange

Oita Expressway
Approx 20 mins

Yufuin Interchange

Prefectural Route No.216
Approx 10 mins

Dazaifu Interchange

Kyushu Expressway
Approx 10 mins

Tosu Junction

Oita Expressway
Approx 1hr 5 mins

Yufuin Interchange

Prefectural Route No.216
Approx 10 mins

Coming By Bus/Trains

JR Kokura Station

Limited Express Sonic
Approx 1hr 20 mins

Oita Station

Kyudai Line
Approx 1hr

Yufuin Station

Taxi
Approx 10 mins

JR Hakata Station

Limited Express Yufuinnomori/Yufu
Approx 2hrs 10 mins

Yufuin Station

Taxi
Approx 10 mins

Oita Airport

Oita Airport Limousine Bus
Approx 55 mins

Yufuin Station

Taxi
Approx 10 mins

Coming By Airplane

Haneda Airport

Tokyo Haneda Airport
Approx 1hr 25mins

Oita Airport

Oita Airport Limousine Bus
Approx 55 mins

Yufuin Station

Taxi
Approx 10 mins

Itami Airport

Osaka Itami Airport
Approx 55 mins

Oita Airport

Oita Airport Limousine Bus
Approx 55 mins

Yufuin Station

Taxi
Approx 10 mins